We all love a bit of chocolate cake and if you fancy having a go and making this delicious vegan and gluten free chocolate bundt cake then you should.
Even if you are not a natural or confident baker, we have been told this is the easiest recipe in the world to follow!
So, let's get ready and get baking (we'd love to see your final cake, so tag 'whitakerschocolates' in on social media!)
Easy Double Chocolate Bundt Cake (GF, DF & V)
Servings: 10 /12
A delicious chocolate Bundt cake with more chocolate that ever before !!!
10 /12 cup Bundt Tin required but could be baked in 2 8in' ( 20 cm ) round cake tins
INGREDIENTS
350 g Gluten Free 
Flour Blend ( I recommend if not using your own Dove Farms FREEE uk or Pilsbury US )
1 tsp Xanthan Gum ( Omit if your blend contains it )
180g White Caster Sugar
180g Soft Brown Sugar
75g Cocoa Powder
2 tsp Baking Powder
1 tsp Bicarbonate of Soda
1/2 tsp Salt
120g Dairy Free Natural Yogurt ( I use Coconut Collab Natural Yogurt
120ml Dairy Free Milk
180ml of Strong Coffee ( 2 tbsp of instant coffee or chicory essence such as camp coffee ) If coffee is not you bag then add 180 ml more of dairy free milk
180 ml Neutral Oil ( I used Vegetable Oil )
1/2 tbsp Apple Cider Vinegar
1 tbsp of Vanilla Bean Paste
80g Whitakers Dark Chocolate Easymelt (Chopped)
CHOCOLATE GANACHE DRIZZLE
200g Dark Chocolate (use Whitaker's Easymelts )
100ml Dairy Free Milk
CHOCOLATE DECORATION
75g Chocolate Chopped (Use Whitaker's Easymelts )
BAKERS GLOOP
40g Trex or Vegetable shortening
40g Gluten Free Plain Flour
40ml Neutral Oil ( I used Vegetable )
2 tbsp Cocoa Powder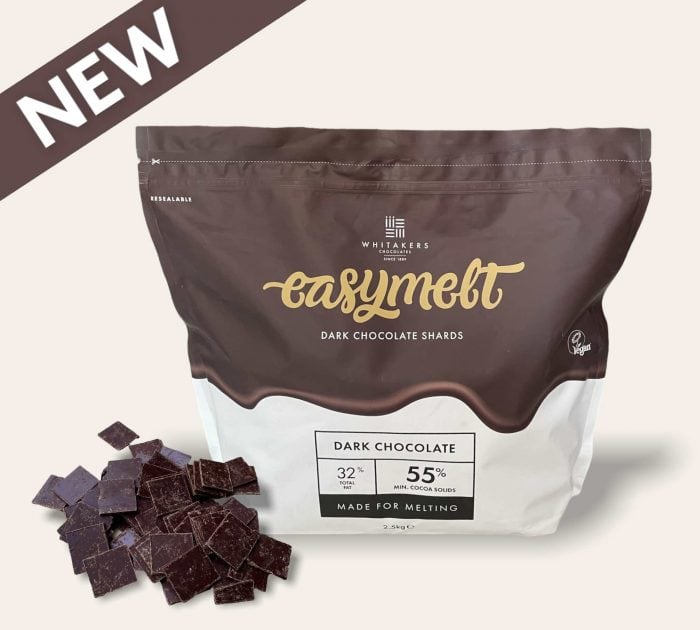 DIRECTIONS
Pre heat your oven to 160 f Fan / 180 Standard / 350 F
Make your gloop using the recipe 40g/ml of oil, shortening and GF Flour plus 2 tbsp cocoa powder , using a hand blender or hand whisk whisk until a smooth paste has formed ( See Video )
Paint the gloop on the inside of the bundt tin and set aside
Make up your 180 ml coffee if using and set aside
Add the GF Flour blend , Xathan Gum ( If Using ) Baking Powder , Baking Soda , salt and Cocoa Powder to a bowl whisk and then Sieve into a large bowl
In another medium bowl add the yogurt , milk , coffee , Apple cider vinegar , Vanilla Bean Paste whisk until combined
Add 80 g Chopped chocolate to the batter and fold in
Fill the bundt tin with the mixture ( It will be thick ) ….. Smooth it and give it a waggle to make sure there are no air pockets
Place in the centre of the oven for 50 minutes and bake until a cocktail stick or cake tester comes out with just a few crumbs
Take out and let rest IN THE TIN for at least 30 minutes before turning out
Leave to cool
To make the chocolate ganache, chop the chocolate into small pieces , heat the dairy free milk on the hob or in the microwave til steaming hot
Pour the milk over the chopped chocolate and leave for minute
Then whisk the milk and chocolate …it may seem grainy at first but keep whisking it will become smooth
Drizzle over the top of the bundt …….artistically 
Melt the remainder of the chocolate in the microwave ( 10 second bursts ) or over a bowl of simmering water until melted
Smooth out over an upside down baking tray and leave to start to harden … when it is finger touch dry use a dinning knife to scrape shards
Liberally sprinkle the shards on the top of the cake
Enjoy
It looks a classic and tastes divine !!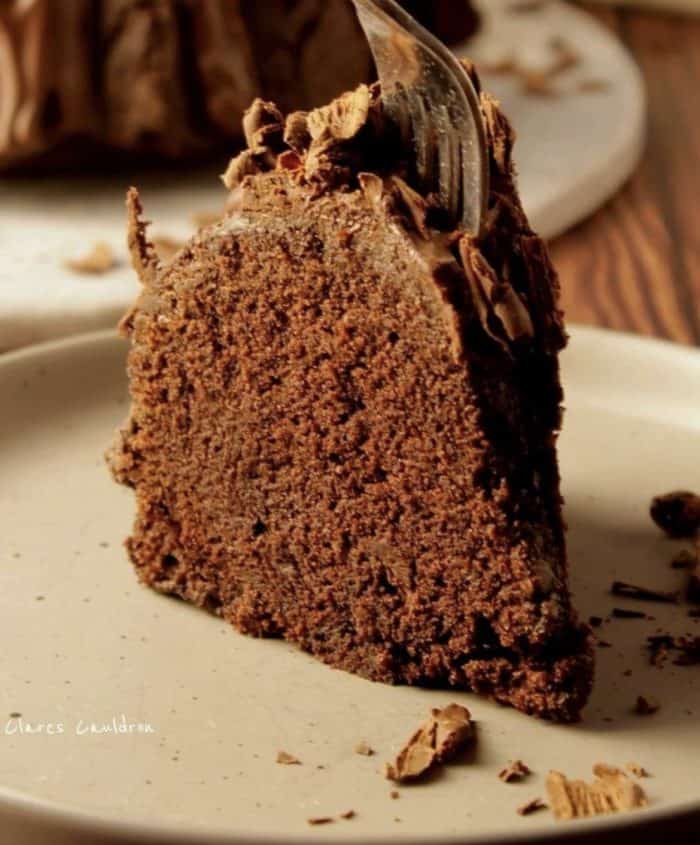 Here's some more pics to seal the deal!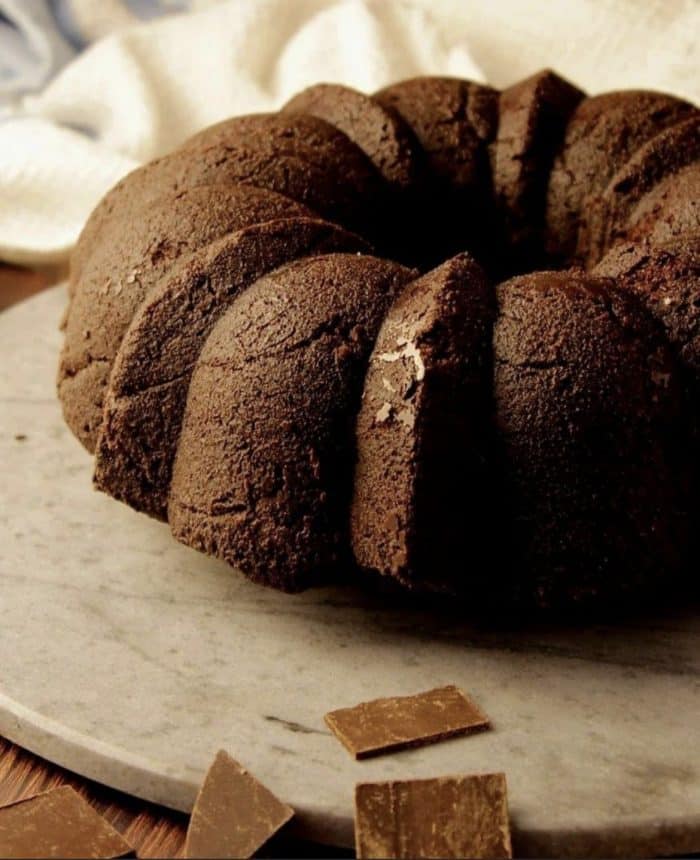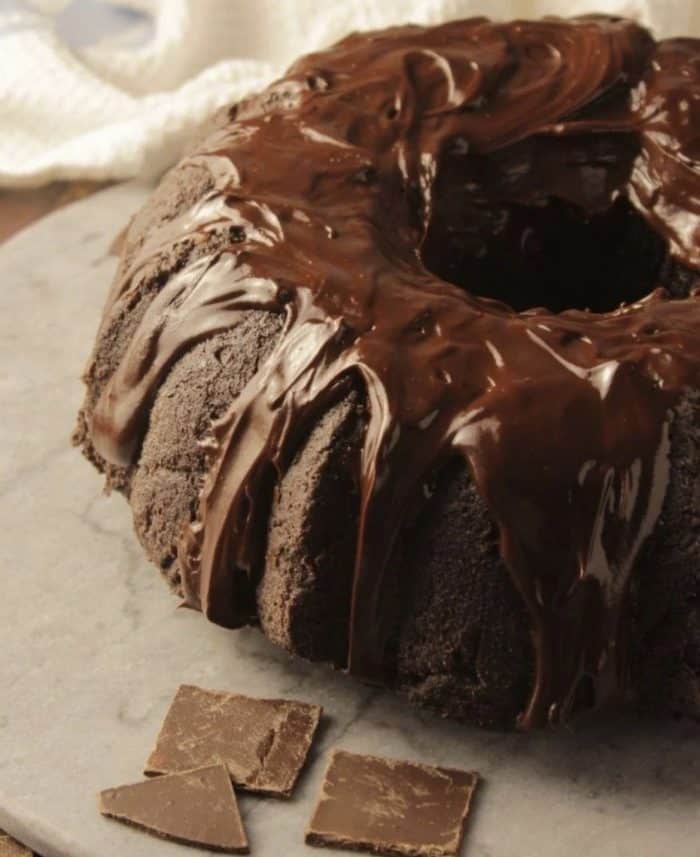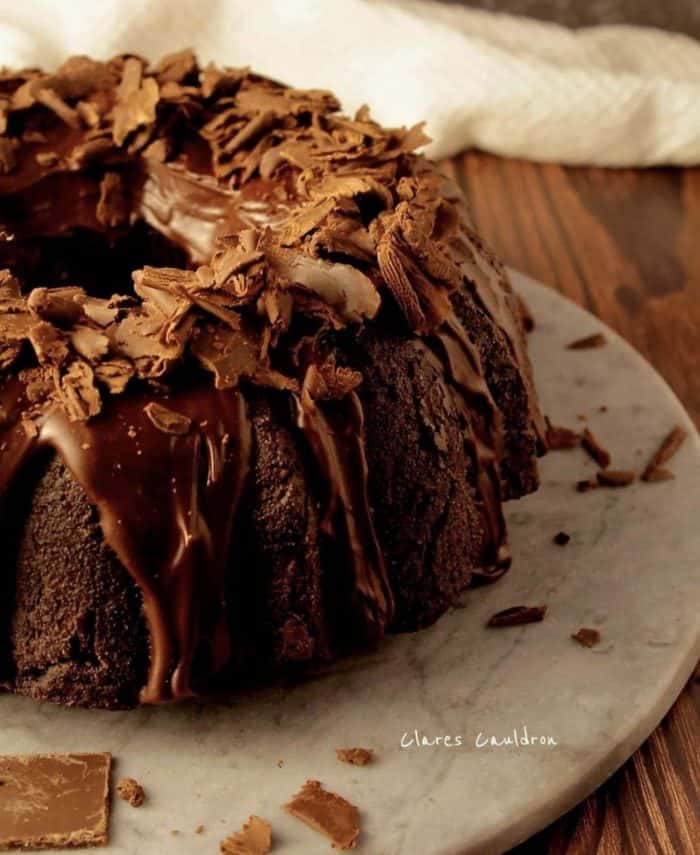 We hope you enjoy this recipe and have fun making it! Don't forget to tag us into your creations @whitakerschocolates on Facebook, Instagram & Twitter!
Big thanks to @clarescauldron who created this recipe and shared the beautiful pictures with us.
For more recipes, follow Clare on WordPress or Instagram @clarescauldron and see what she's up to & make sure you follow us for more chocolate-inspired blogs!
Note – If you are reading recipes, you might sometimes see them call for plain chocolate. Don't panic. This is just another name for dark chocolate.
More Interesting Chocolate-Inspired Blogs Posts to Read: