Your search is over, it's official – we've found the best selection of chocolates and truffles the UK has to offer for the catering market!
So, what makes the best chocolate?
Pure flavorings and natural ingredients, rather than artificial flavoring, produce the best-quality chocolates. Chemical preservatives also affect the flavor and quality of the finished product. Top-notch chocolate products use the simplest, purest ingredients so the true flavor shines through.
Whatever the occasion, chocolate makes the perfect partner. So, if you are planning an event, looking for gifts for your guests, own a hotel and are looking for pillow chocolates or a chef who is looking for gorgeous Petit Fours – we've got you covered!
Best Pillow Chocolates
The simple gesture of a pillow chocolate has long been a symbol of luxury, a gift from the hotel to punctuate the turndown experience and send guests to slumberland with sweet dreams. Usually this sweet treat is a wrapped mint chocolate, like a mint fondant cream but these days square Neapolitans with the hotels logo and message are the preferred choice. Whitakers Chocolates offer an extensive range when it comes to turndown chocolates. So, whether you are looking to stick with tradition and opt for a peppermint foiled chocolate or elevate your brand by choosing a personalised chocolate Neapolitan – you'll be spoilt for choice!
BEST CATERING CHOCOLATES AND TRUFFLES
Whether you're a chef looking for after dinner chocolates and petit fours or looking to host the event of the century, one thing's for sure – you want chocolates that are going to WOW your guests! And why not, after all life is too short for rubbish chocolate! We know you want chocolates made with 100% natural and high quality ingredients, a large assortment that will impress, luxury hand finishing touches and decorations to add that extra WOW factor but above all, we know you want value for money! You'll be pleased to hear we've found the perfect selection of luxury catering chocolates and truffles for you.
Whitakers Chocolates is the small Yorkshire chocolatier that specialises in creating wonderful chocolates for the catering and hospitality sector, with over 130 years of chocolate experience – they know what they're doing! So much so, they've created a wonderful selection of chocolate and truffles in an array of box sizes which is great news whatever the size of event/party!
THE ULTIMATE AFTER DINNER CHOCOLATE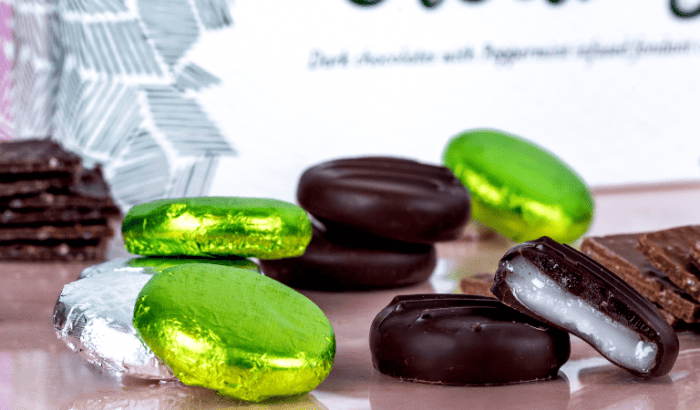 We're a nation of chocolate lovers so it's not wonder that we all love a little sweet treat after dinner. In fact, there is something quite nostalgic about the after dinner mint chocolate. Perhaps in your family, this was something of a once a year treat, a treat that you enjoyed over Christmas but for lots it's an all year round enjoyment. Finishing your meal with coffee and a dark mint chocolate sounds perfect to us, but, what would you choose? It would have to be dark chocolate wouldn't it? Infused with natural peppermint oil giving it just the right flavour balance. But, would it be a classic mint fondant cream? or a mint crisp? or just throwing this into the mix – a super thin chocolate wafer with mint crispy bits!
The classic dark chocolate mint fondant cream gets our vote!
Best catering chocolates for Valentines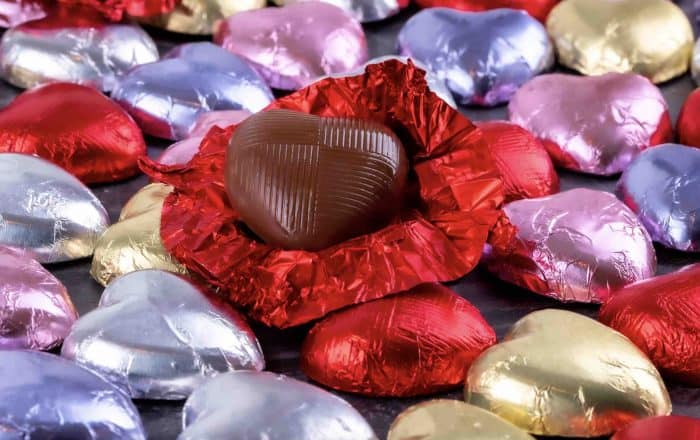 We think you know the answer to this question – chocolate hearts of course. What else would be the ultimate chocolate gift for valentines?! It may be a cliche, but, chocolates hearts are the favour of the month when it comes to LOVE. And, these cute solid chocolate hearts are the ideal choice as they come in a range of foiled colours – choose from red, pink, lilac, gold and silver. They're also available in 1 kilo tubs or bulk catering boxes, so they're ideal for making gifts, turndown chocolates or for serving after your romantic meal.
BEST CHOCOLATE GIFTS
When you want to impress your guests, there is only one way to do it, with luxury gift boxes filled with wonderful chocolates and truffles. It might be you're looking to enhance your guests stay and want a gift for their arrival, or a simple thank you gift. Whatever the reason, these little gift boxes are filled with chocolate happiness and they don't have to break the budget. Plus, if you are wanting to put your own mark on the boxes, the good news is you can, they are fully personalisable. The range is vast, with different box style and sizes, so best just click on the link below.