So, what's the best chocolate gift for this year?!
It's tough not to love chocolate – which is exactly why it makes the perfect choice when it comes to gifting.
Whatever the occasion, age or gender it's a solid choice that everyone can love and enjoy. Plus, gifting chocolate makes you feel great too (you just need to remember to gift some to yourself as well)!
Whatever the occasion, when looking for the perfect gift for the chocoholic in your life, there may be lots of factors to consider. Such as allergies, dietary requirements or even how green is the packaging. With so much choice is can be hard to find exactly what you are looking for without exhausting google and ending up paying lots of delivery charges. That's why we thought this little blog would help you find the right chocolate gift all in one place!
Whether you are looking for gifts your office pals, larger gifts for groups or smaller ones for individuals, we've got your back.
Best chocolate gifts for the office
Chocolate hampers – what's not to like, plus everyone can get involved as there's something for everyone. These luxury chocolate hampers from Whitakers Chocolates are great value and are filled to the brim with luxury chocolate gift boxes, chocolate bars and hand-finished chocolate truffles. They offer a great choice too, which means whatever your dietary requirements or chocolate needs – they'll have the perfect hamper for you. From vegan, dark chocolate to a salted caramel lovers dream!
Best chocolate truffle gift box
We all love a little luxury and it doesn't come more luxury than this. Think hand-finished chocolate truffles made using indulgent natural ingredients in a variety of flavours. Marc de Champagne, Gin and Tonic, rich dark chocolate, rum, Sea Salted Caramel, Bucks Fizz, Vanilla white chocolate plus Vegan truffles – any of these take your fancy?
Best small (token) chocolate gift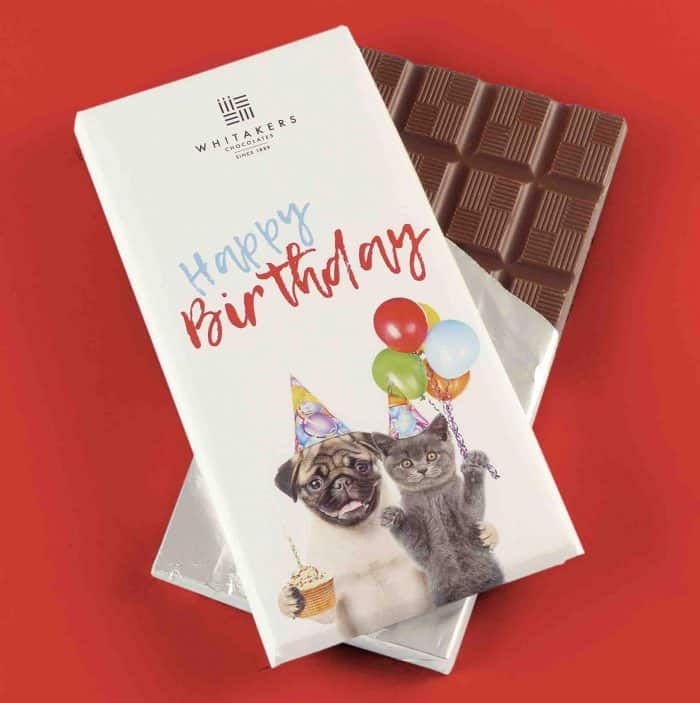 We all have those days where you are hoping pay day was a bit nearer but you know you have the buy a gift for a friend, but what can you get on a budget! Whoop whoop – what about these cute little 90 gram milk chocolate bars from Whitakers Chocolates! They're made using smooth and creamy milk chocolate and come in a range of styles that cover all occasions.
Best Gluten-Free chocolate gift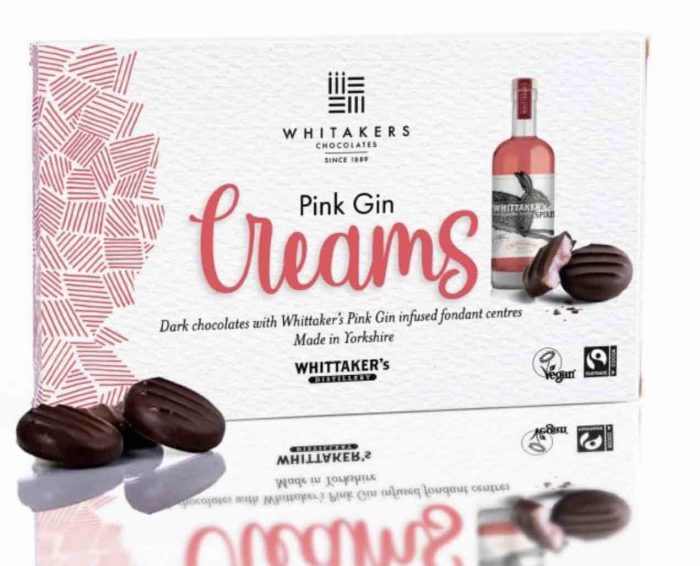 With more and more people choosing to follow a gluten free diet, whether through personal preference or due to a health condition (i.e. Coeliac Disease), it can be hard to find great tasting chocolate gifts. This search can also be made difficult by how products are labelled or not as the case often is. At Whitakers Chocolates, they have a huge range of gluten free chocolates. Here we have chosen to feature their dark chocolate fondant cream range, in particular, the Pink Gin creams! Why not, after all who doesn't like chocolate and gin! They taste delicious, are suitable for vegetarian, vegan society registered, made with Fairtrade Cocoa and are a lot cheaper than you might think! (only £2.35 per gift box).
Best Vegan chocolate gift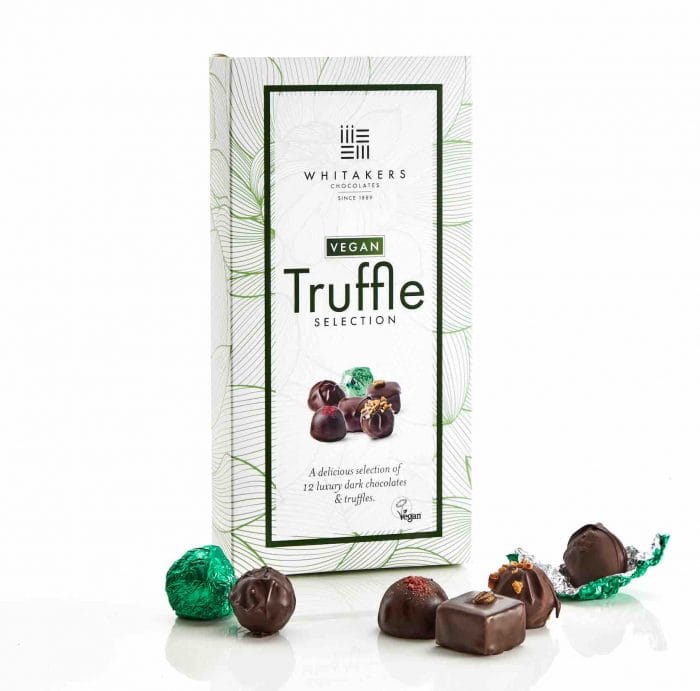 There has never been a better time to be vegan, trust us! Just take a look at what's probably the best chocolate treat for vegans EVER! Whoever the gift is meant for, they will love this super stylish box of vegan goodies. You might even have to buy another box to satisfy your sweet tooth.
Best chocolate gift for coffee lovers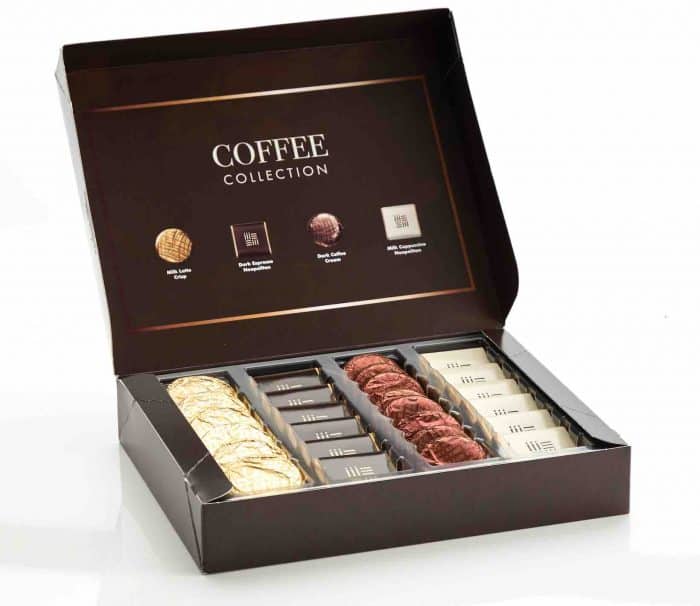 Coffee and chocolate? Well whether it does it for you or not, some people LOVE coffee chocolates. So, here is the ultimate choice for the coffee lovers out there. Just think how many brownie points you'll get by gifting this coffee lovers chocolate treat! This gorgeous gift box contains an assortment of milk and dark chocolates, all flavoured with natural coffee. It has some cool flavours too, like cappuccino, latte and the dark chocolate espresso is to die for!
Best chocolate gifts to share
Whether we like it or not, there are times when we have to share. So, in times like this there is one major rule – make sure you buy the biggest sharing box you can. This is where this gift box excels itself. Initially made for the catering market, this truffle gift box has been relaunched in a stunning designed box that is now the perfect sharing gift. It contains 55 assorted milk, dark and white chocolate truffles. Bigger boxes are available but we think this is just the right size for a group to enjoy.
Best chocolate gifts for her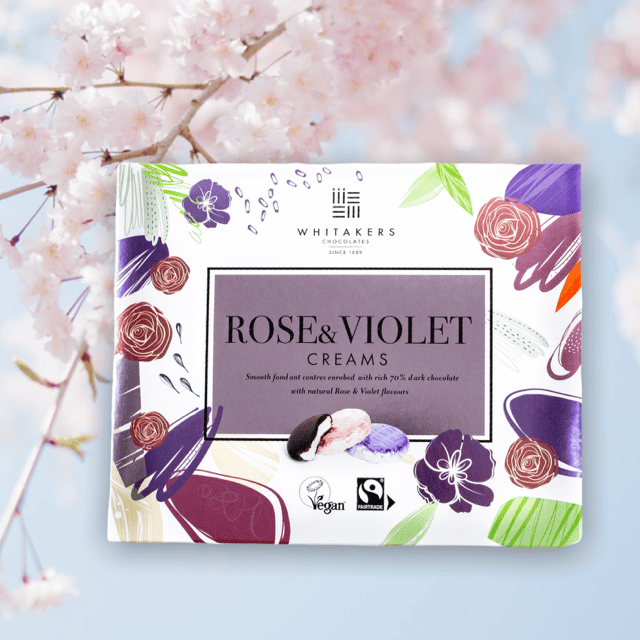 Floral or fruity? We're loving this gorgeous gift box by Whitakers Chocolates, featuring a stunning shimmery flower design, plus filled with dark chocolate rose and violet creams. This is the perfect gift for her, match with a bunch of flowers to make a dreamy combo. Again, this gift box is suitable for vegetarians, vegans, anyone following a gluten-free lifestyle and they're made with Fairtrade Cocoa.
Best chocolate gifts for him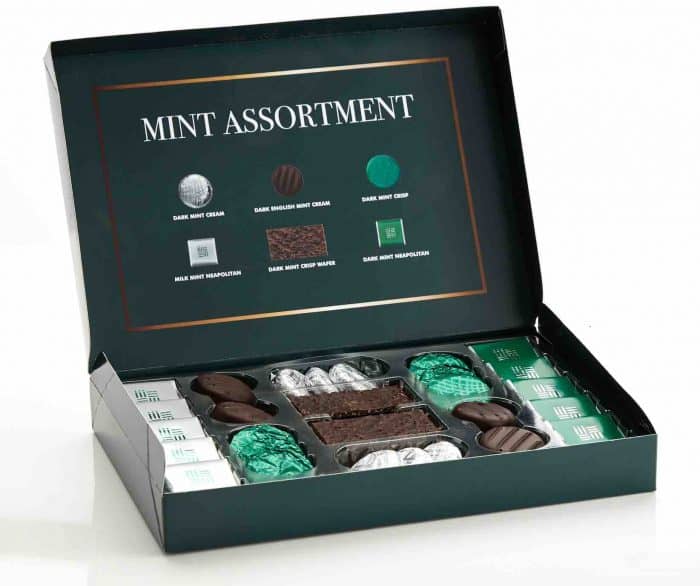 Looking for the ultimate chocolate gift for him? We think this fits the bill perfectly, after all what guy wouldn't be happy with this selection of milk and dark chocolates all flavoured with natural mint oils. The packaging is great too and if they really wanted to (not that we think they would!), it's sharable!