There aren't many things in life that beat tucking into really good chocolate.
The best chocolate doesn't always have to be fancy or high-end but good quality and taste really does stand out from the crowd. However, with more and more chocolatiers entering an already saturated market, how do you separate the good from the overwhelmingly average?
We've muched our way through the whole range of Whitakers Fondant Creams (as well as our customers) to share the top five flavours of 2022!
But, before we reveal our findings, we thought we would remind you of a few chocolate fondant facts!
Did you know Whitakers fondant creams are made using their signature dark chocolate which adds to the quality and taste.
All Whitakers fondant cremes are gluten-free, palm oil free and are made using only the finest and natural ingredients.
They are suitable for vegetarians and vegans (we're Vegan Society registered)!
They are made using Fairtrade Cocoa.
Plus, all the packaging is from sustainable sources and is 100% recyclable afterwards.
Whitakers fondant creams are available in 11 flavours!
Top 5 Fondant Creams Flavours
1: The Mint Cream
The ultimate anytime treat for the mint lover!
Think gooey mint centres wrapped in signature dark chocolate & you've got it! These will probably be top of the list always, after all the original is always the best.
Delicious rich dark chocolate enrobed around a creamy mint flavoured fondant centre. Each 150g box contains 15 beautifully presented chocolate creams.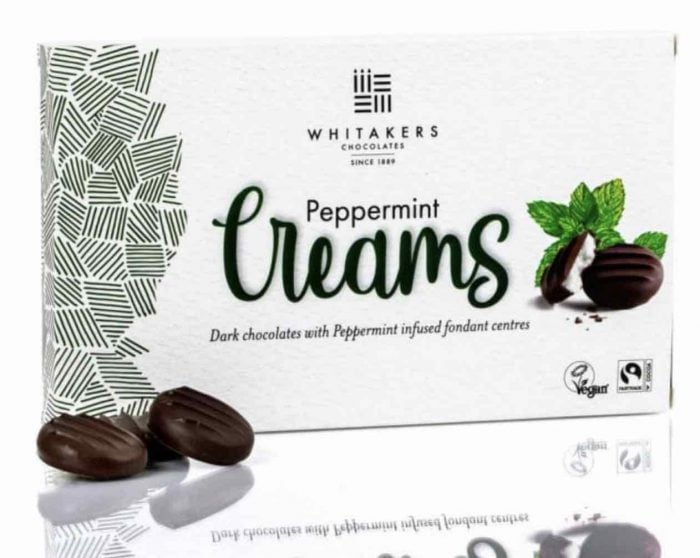 2: The Coffee Cream
This is a very close second not to mention yummy. If you're a coffee lover, then these chocolate creams are to die for. Just the right amount of coffee flavour goes into each chocolate making them easy to eat on their own, to compliment a tea/coffee drink or an after dinner treat. Even non coffee lovers say they are delicious too!
Think dark chocolate covers mini gooey fondant centres flavoured with natural coffee. Each gift box contains 15 coffee scented chocolates.
3: Salted Caramel Cream
The natural Sea Salt and caramel flavours really work with the creamy fondant centre and add a nice balance with the rich dark chocolate. In theory this shouldn't work but trust us (& thousands of our customers!) it does. The sweetness is offset by the salty inner and all finished off nicely with Whitakers signature dark chocolate.
4: Pink Gin Creams
Well this is a surprise! This is the newest addition to the Whitakers fondant cream range and what an impact it's made. Each chocolate is infused with real pink gin giving a lovely fresh and fruity taste. The gin mixes perfectly with the fondant centre and gives it a gooey texture. These little bites of heaven are perfect for the summer. These are a gin lovers dream chocolate and would make an excellent gift for any occasion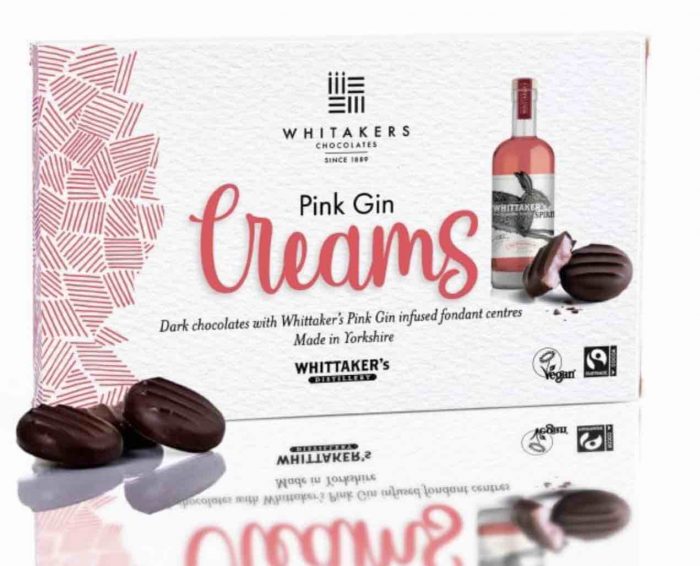 5: The classic Orange cream
We thought these would make the top five (we thought it was either orange or strawberry but the orange had the edge!). Natural orange oil is used to flavour each fondant centre giving these chocolates a fresh and zesty taste. Each chocolate is literally bursting with flavour – like a flavour bomb in your mouth! It is right that these fruity creams make the top 5.
Well there you have it, our top 5 flavours of fondant creams right there. But don't worry if your favourite flavour didn't make it, we're all different after all and we do have 11 flavours to choose from! So whether you are looking for a fruity kick such as black cherry or lemon or a little floral treat – we have you covered.
Finally, if you're looking for bulk fondant creams, the good news is we now offer most of our range in either bulk catering boxes or in our new 1kg tubs! Shop now