Call us old fashioned, but we're smitten with the idea of showering those closest to us with a little extra love on February 14th.
With Valentine's Day being just a couple short weeks away, we're planning ahead by creating the ultimate Gift Guide to make your life easier.
Whether you're newly dating, have been together for quite some time, or have even tied to knot, we've found an array of gift ideas everyone will love. After all who doesn't like chocolate!
Keep scrolling to get those gift giving juices flowing, and you might even find the perfect one for that lucky someone.
1) Milk chocolate LOVE hearts gift box
Make hearts melt with this cute gift box filled with smooth and creamy, red foiled chocolate hearts.
Plus, they're Fairtrade and gluten-free! Only £3.95
2) Milk chocolate LOVE bar
These gorgeous milk chocolate bars make the perfect mini gift – thinking baes, work wives and husbands!
Only £1.35!
3) Luxury Vegan Truffles gift box
The best gift for vegans has arrived! These luxury gift boxes contains 12 handmade dark chocolate truffles, praline and luxury creams. Warning: They are DELICIOUS! Plus, they're Vegan Society approved
£9.99 per gift box
4) Chocolate Truffle Heart gift box
Now we all love a bit of tradition and here it is! Our heart shaped gift box filled with luxury chocolates and truffles, finished with a red satin bow. WOW!
Only £7.20
5) Milk chocolate LOVE Neapolitan Squares
Share the love with these cute individually wrapped chocolates with a Valentine's themed wrapper. Scatter them across the table, in the bedroom or anywhere else you choose!
Think big, you get a lot of chocolates – 400 chocolates in total!
£40.00
6) Gin & Tonic and Champagne Truffles
Go all out with this luxury range of alcoholic truffles. Laced with natural Gin and Marc de Champagne, they will make the perfect gift this season. Why not pair with a bottle of the finest Champagne for that extra special touch!
Only £8.95
7) Luxury Assorted chocolate truffles
Why so blue? Don't worry we've got something for everyone. He'll love this range of assorted truffles in this beautiful blue gift box
Only £8.95
8) Rose and Violet Dark chocolate fondant creams
Roses are red, violets are blue, you're going to love what we've found for you! …
£4.75 , plus they are Vegan, Fairtrade and gluten-free too
9) Bulk foiled milk chocolate hearts
Who doesn't love a chocolate heart? It's the first gift that comes to mind when you think of Valentine's Day. Well, we've got this one wrapped up, shower you loved one with 160 foiled hearts! Plus you can choose your foil colour (choose from: red, pink, silver, gold and even lilac!)
1kg of milk chocolate hearts for only £24.55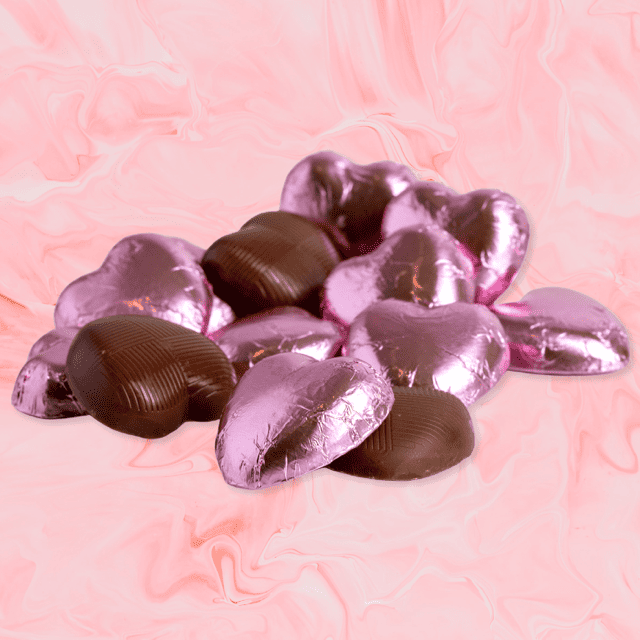 10) The chocolate lovers dream box
This has got to be the chocolate lovers dream box. Think a bulk box of luxury hand-finished chocolates in milk, dark and white chocolate. Ideal for sharing (but only if you want to!). Each gift box contains 77 chocolates!
Nothing says 'I LOVE YOU' like this box would
875g for just £30.80!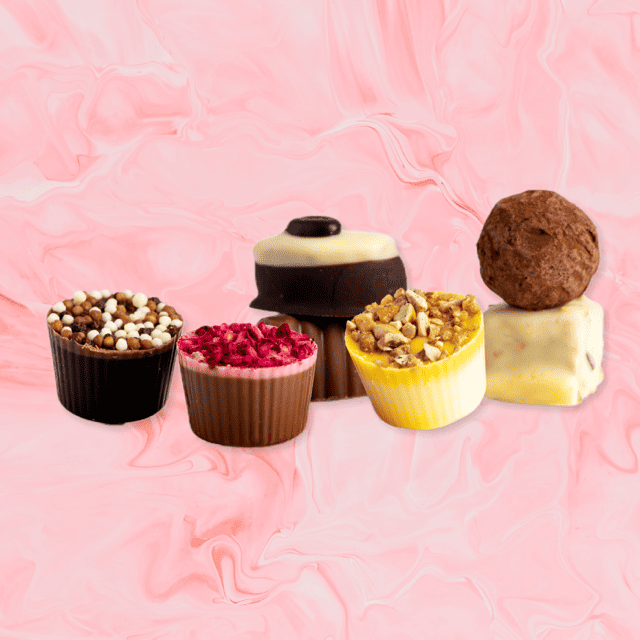 This guide is just a little taster of what we have in store for you this season. For more Valentine's Day gift inspiration, head over to our website to view our full range of valentine's chocolates.
If you're looking for gifts for her, gifts for him, valentines vegan gifts or just a little treat for you…we have you covered!
And you might also be interested in our personalised chocolate wedding favours.
More Interesting Chocolate-Flavoured Blogs to Read: