This recipe is based on a traditional chocolate with a Violet twist…(using Whitakers Chocolates delicious Violet Creams!).
It's also a very regal looking cake that will go down fantastically over the Queen's Platinum Jubilee Celebrations!
Violet and Chocolate flavours taste terrific in this variation of a classic favourite, covered with chocolate-flavoured marzipan. So, here's the all important recipe…
RECIPE
Violet and Chocolate Battenberg Cake (GF, DF V)
Servings: 10/ 12
It's made in the Silverwood Battenberg Tin, with its clever dividers to make four even strips of cake, which are then assembled into a chequerboard pattern…. A Tala Battenberg pan could also be used they are 8′ x 6′
To make sure that your cakes are exactly the same you should weigh the batter with a scale when you divide it in half. To do this I weigh the bowl before I add any of the ingredients and make a note of this number.
Once you have finished making the batter, weigh the bowl again (this time with the batter in it).
Take the weight of the full bowl and subtract the weight of the empty one, this gives you the weight of your batter.
Divide that number in half and that tells you how much batter to weigh out into a separate bowl.
(You might also want to read this post: Should You Put Chocolate in the Fridge?)
INGREDIENTS
110 g Gluten Free Plain Flour Blend, ( if not using your own blend I recommend Doves Farm Freee Plain GF Flour blend or Pillsbury US )
1/2 tsp Baking Powder
1/4 tsp Xanthan Gum ( omit if you blend contains it )
50 g Ground Almonds
115 g Caster / Superfine Sugar
115 g Vegan Block Butter Melted ( I used Flora Plant based unsalted )
120 ml Plant based Milk ( I used Mighty Pea M!lk )
10 g Cocoa Powder ( Check it is Gluten Free and Vegan I used Dr Oekter )
10 drops of Violet Extract ( I used Foodie Flavours )
Purple Food Colouring ( I used Rainbow Dust by Progel )
30ml Tap Water
FOR THE GANACHE
150 g Gluten Free Vegan Chocolate ( I used Plamil Foods Oat M!lk Choc Drops )
85 ml Plant Based Milk
FOR THE MARZIPAN
200 g Ground Almonds
200 g Icing / Confectioners Sugar
25 g Cocoa Powder
65 g Liquid Glycerine
1 tsp Vanilla Extract
2 tbsp Aquafaba ( Chickpea juice …. I used Ogg Eggs )
6 Whitakers Chocolates Violet Creams (They are the best fondant creams!)
Sprinkles ( I used Baking Time Club Sprinkles )
DIRECTIONS
Preheat your oven to 180 C / 160 C Fan / 350 F
In a large bowl add your Flour Blend , Xanthan if using , and Baking Powder and whisk until combined
Add Your ground almonds and caster sugar to the bowl and whisk it all together until well combined
Melt your vegan butter in the microwave or hob until just melted and leave to cool for 5 minutes
Measure out you milk in a medium bowl then add the melted butter and vanilla extract and whisk together
Add the wet ingredients to the dry and mix until you have a smooth batter
In a small Bowl add the add the 10 g Cocoa Powder and the 30 mls of water and mix into a paste
Using a scale for accuracy, pour half of the batter into a separate bowl add the cocoa paste and stir til combined
Add the Violet Extract and purple colouring to the other and mix until well combined
Evenly dived the bowls into two dividers each and spread and level the mixture
And place in the oven on the middle shelf and bake for 23/ 25 until a cake tester or cocktail stick comes out clean on a test
Leave the cakes to cool in the tin for 20 minutes then carefully flick them out onto a wire rack
Make the marzipan whilst the cakes are baking
In stand mixer or by hand – add ground almonds , icing sugar, and cocoa powder. and mix until combined
Add the and glycerine and vanilla extract. and mix for1 minutes
Add the 2 tbsps Aquafaba and mix for a further minute
Once a ball starts to form take it out and gently need it until it is smooth
Wrap in cling film and place in the fridge for 30 minutes to an hour
Make the Ganache
Warm the Plant Based Milk in a pan on the hob until just before the boil
Add the milk to the chocolate , leave to stand and then after 5 minutes whisk until smooth
Leave to stand 10 minutes until it starts to thicken
Trim the sponges with a sharp serrated knife (a bread knife is ideal) so that they are all the same size.
On a piece of parchment place the marzipan and place a piece of cling film over the top
With a rolling pin roll the marzipan to 20 x 30 cm ….. cut to size using a pastry or pizza cutter
Cover the marzipan in a thin layer of ganache
Add two alternating coloured cake strips to the middle of the marzipan along the short length
Cover the top of the two strips with another thin layer of ganache and in a checker board pattern place the further two on the top
Carefully roll the cake up in the marzipan so that it is fully encased. Trim the excess so that it overlaps about halfway across the cake. Brush it with a little bit of water and gently press it down to seal.
Turn the cake so the seal is at the bottom
Use a sharp knife to slice a piece off either end to neaten the cake and reveal the pattern.
Decorate as desired using left over ganache, sprinkles , Violet Creams , or leave it plain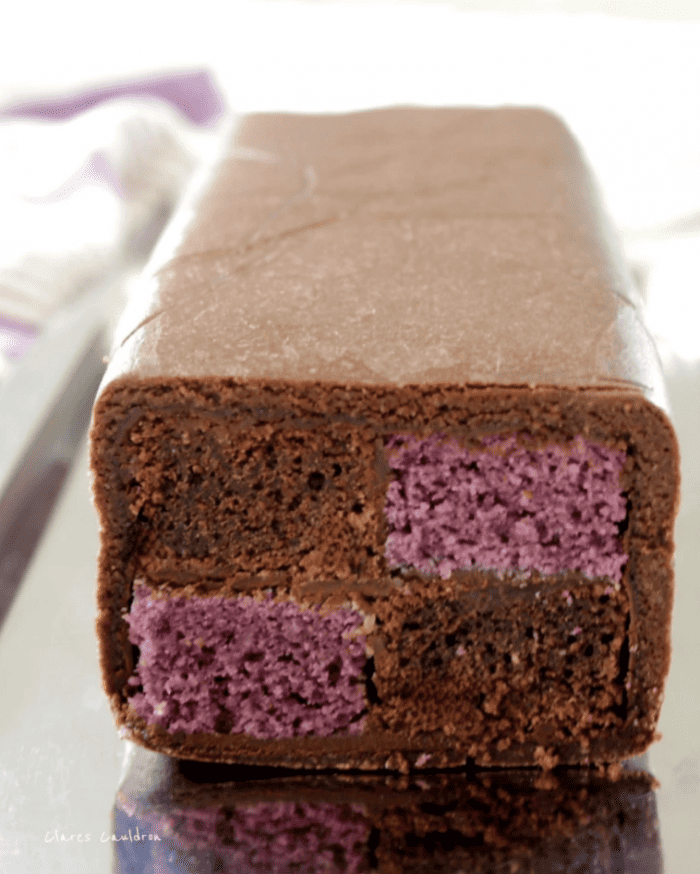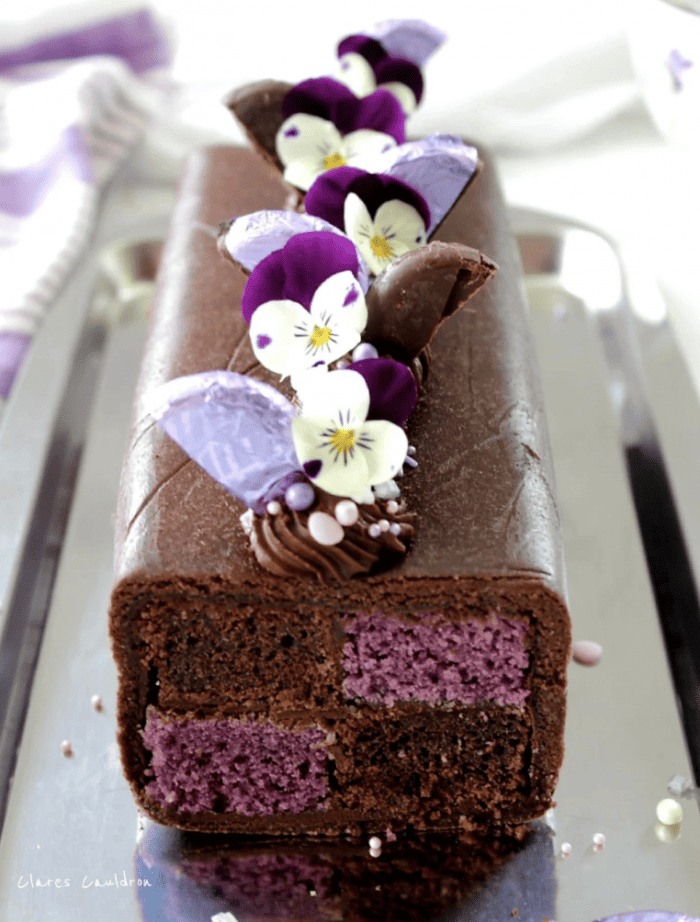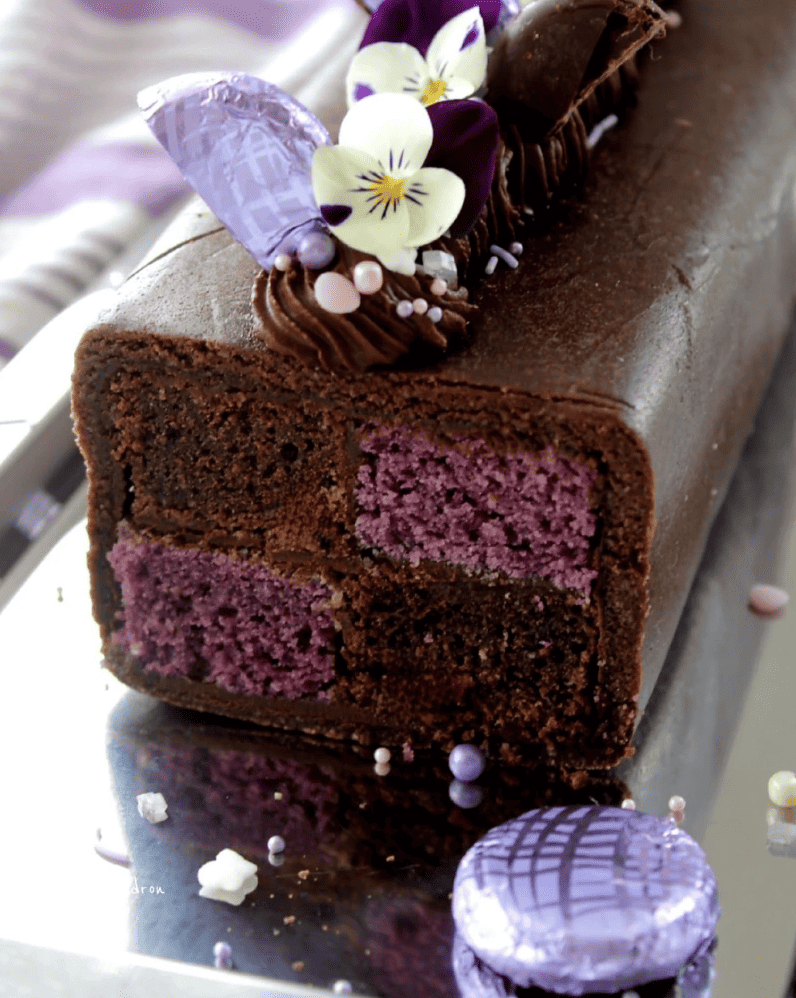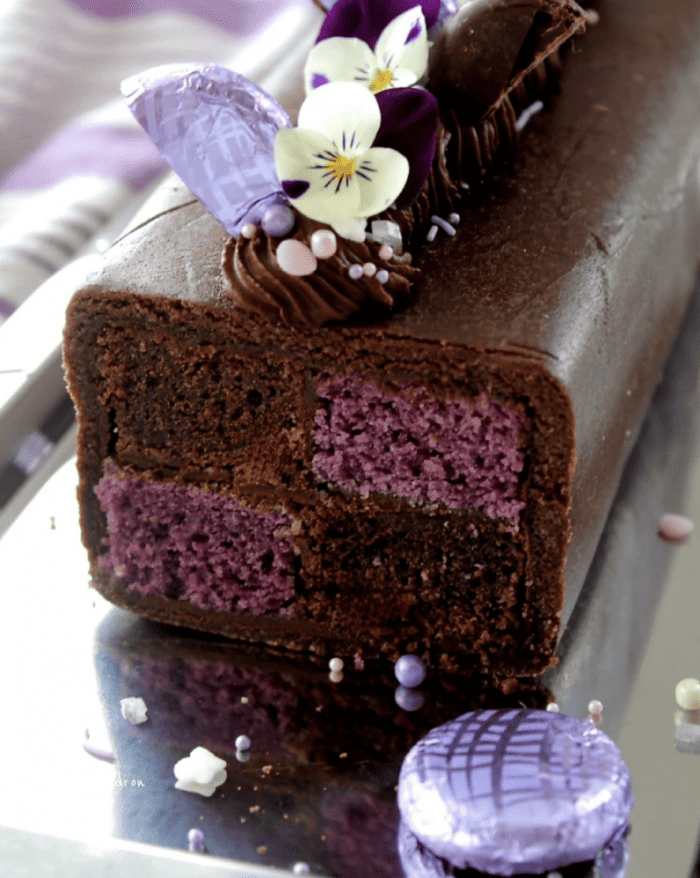 Hope you enjoyed the post and I hope you'll have a go at making yours. Remember this is a gluten-free, dairy free recipe which is also suitable for vegans.
We'd love to see your creations, so tag us in @whitakerschocolates on Facebook or Instagram !
Thank you to @clarescauldron who created this cake recipe and for the stunning photography. The cake looks too good to eat!
Enjoy!