Baubles. Tinsel. Presents under the tree. Sleigh rides. Reindeer. Sitting on Santa's knee. Who doesn't love Christmas? But there's one ingredient Christmas can't do without. It's not turkey or Christmas pudding, nor is it mince pies or Yule log. It's chocolate!
So, if you're looking for the best Christmas chocolate gift – you've landed in the right place!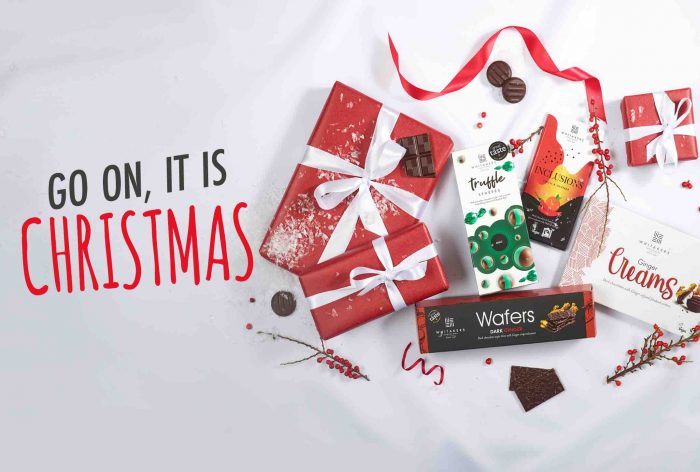 We're a nation of chocolate lovers and consume more chocolate than ever at Christmas. Once of a day, Quality Street and Roses were the main choice but not anymore.
Over the years, artisan chocolatiers have popped up and given the mainstream brands a run for their money. After all, life's too short for average chocolate!
What are the best chocolate gifts for Christmas?
We might be biased but we think Christmas begins with Whitakers Chocolates. With over 135 years of chocolate making experience, these guys know what they are doing and cater for all dietary needs. From gluten free chocolates, chocolate suitable for vegans and vegetarians and low sugar chocolate gifts – they've got you covered.
To make life easy and hassle free, we've hand-picked the best chocolate gifts for this season. We hope you like them!
Best Christmas Gift for her
Get in her in the festive mood with these exquisite chocolate truffle gift boxes. These beautifully designed floral gift boxes are filled with luxury hand-finished chocolate truffles. We especially love the pink gift box, filled with real Champagne and Gin & Tonic chocolates! Order your gift box HERE
Best Christmas Gifts for him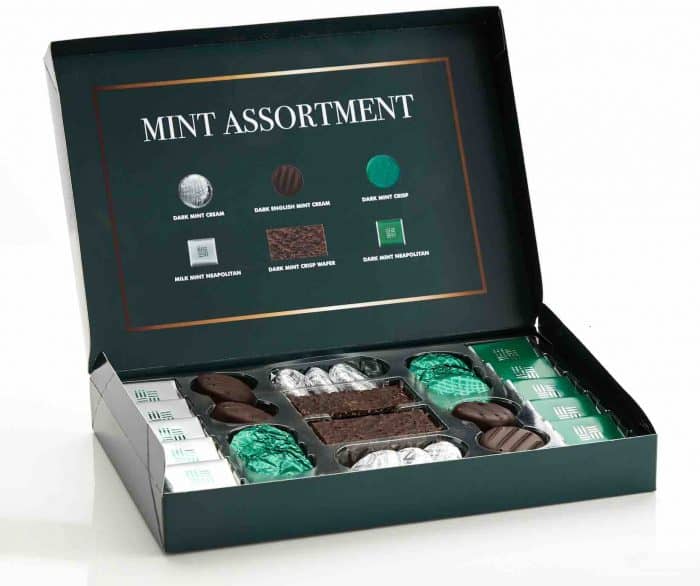 Say hello to the ultimate gift for him, a show stopper of a christmas selection box! We totally love this mint chocolate gift box. Yes granted it's not just for boys but we feel it's got a real masculine look and would give anyone the WOW factor upon opening. It's full to the brim of delicious milk and dark mint flavoured chocolates. Plus, as an extra bonus these chocolates are gluten-free! Shop now
Best Vegan Christmas Gifts
We've pulled out all the tinsel with this show stopper! The best vegan gift has arrived and Vegan chocolates don't get any better than this. Last year Whitakers Chocolates launched their very own vegan selection tin – Vegan Tin-Tations. The launch was a huge success and so much so, that this year their selection tin makes another appearance. This gorgeous tin is packed full of vegan milk and dark chocolates and toffee, all individually wrapped plant based chocolates. For just £19.99 you get 525 grams of yummy vegan chocolates and toffee! Be quick, tins for this year are limited and are selling fast. Order today
Best Gluten Free Christmas Gifts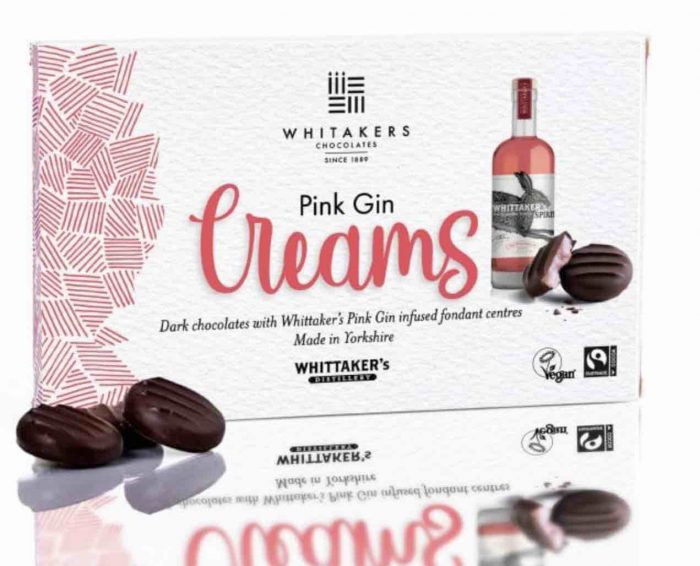 We don't think anyone should miss out on great chocolate and neither do Whitakers Chocolates.
Can't eat Gluten? Do you struggle to find gluten-free chocolates? Looking for chocolate or sweets suitable for Celiac's? Well, you'll be pleased to hear that most of the chocolates Whitakers make is suitable for all, including celiacs and those following a gluten free diet!
We've picked out this cute little stocking filler – Whitakers Dark Chocolate Pink Gin Fondant Cream, but if Gin isn't your thing, then don't worry there are 11 flavours to choose from. So, if you love a strawberry cream, coffee cream or even salted caramel cream, you'll find the flavour for you.
It's also worth mentioning that not only are these gluten-free, they are also palm oil free and are suitable for vegetarians and vegans. Looking for individually wrapped chocolates? Click here
Best Chocolate Gifts for Kids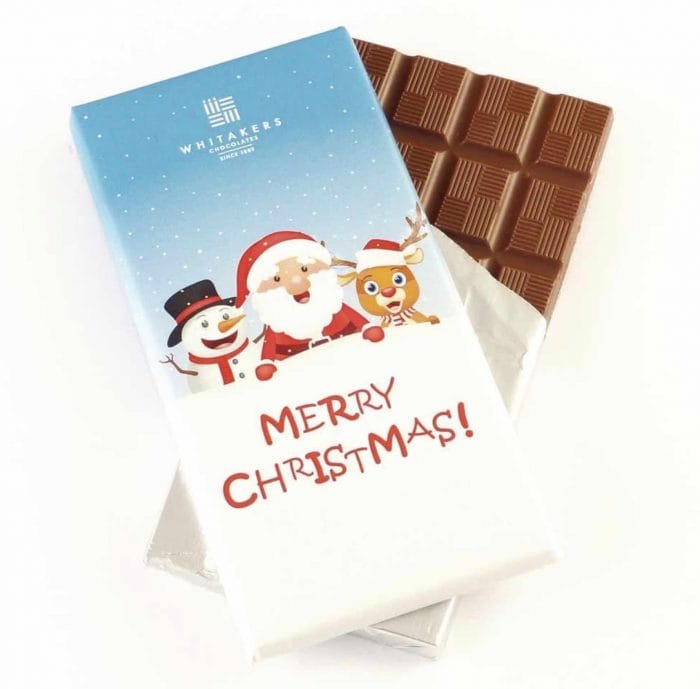 Stocking filler alert for kids…Check out the cutest Christmas gift for kids which is perfect for their Christmas Stocking. This 90 gram chocolate bar is finished with a fun cartoon designed Merry Christmas wrapper and contains the most delicious milk chocolate. Plus the price is great too, only £1.99 per bar! Get stocked up this Christmas at Whitakers Chocolates.
Best Christmas Gift Hampers
Christmas wouldn't be complete without a gift hamper! But there's traditional gift hampers and then there are special chocolate gift hampers. These luxury chocolate hampers by Whitakers Chocolates are definitely special.
With 6 chocolate gift hampers to choose from, each featuring their signature branded natural tote bag from only £32. Each hamper has been expertly created to include their best selling chocolates, chocolate bars and truffles. Plus orders over £40 receive FREE UK mainland delivery.
But… What About Wholesale?
You can create an account and make sure your orders reach you in plenty of time for the Xmas rush!