Gifts for Teachers that they are sure to love.
Teachers shape our lives in so many ways and have gone above and beyond over the past few years.
From learning how to teach via Zoom to reconnecting with their students back in the classroom. Despite all the challenges, they've had to be flexible, patient, and determined to continue educating in unstable, uncertain times.
As the school years draws to a close, it's time to give a little back and say Thank You for a job well done. Teachers don't just deserve an A+ for all their hard work and effort, they need a great gift that shows them how much you care.
The perfect present for your teacher doesn't need to be expensive. A simple, heartfelt, and thoughtful gift or note can sometimes be enough to make a difference, and make your teacher feel special.
With so much choice in the gifting market, choosing the right present can sometimes be a daunting task. However, we do believe that the majority of people love chocolate, so what better place to start than here!
1 – The best teacher gift EVER!
Never underestimate the power of chocolate. These milk chocolate bars are the cutest Thank You gifts for teachers. With specially designed and themed wrappers, which are guaranteed to put a smile on their face and yours. Plus, they are a great price too at £1.99 per chocolate bar!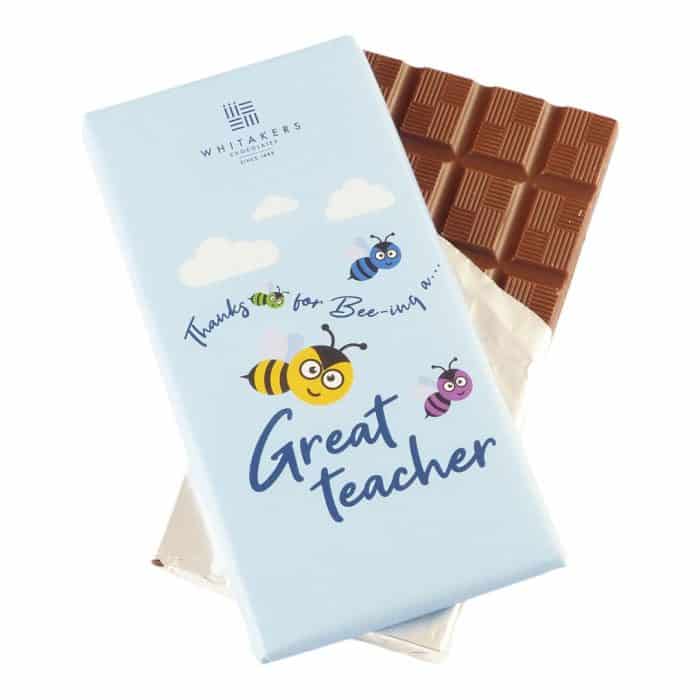 2 – Best gifts for sharing
Okay, so we know you can't buy for every teacher that has made a difference to you school year but we also know you won't want to miss anyone out. With this in mind, we've got the perfect solution.
3 – Vegan chocolate gifts they'll love
Again, gifts don't have to cost the earth, after all it's the thought that counts. But, these little chocolate gifts boxes won't disappoint. They're vegan, gluten-free, suitable for vegetarians and not to mention totally delicious!
4 – The grand gesture
So, you're super excited about finishing your school term and you want to make the biggest gesture possible. We know how you feel! For the ultimate gift of the season why not treat your teacher or the whole teaching department to this – Whitakers Chocolates Gift Hamper.
We hope our little gift blog has been helpful and has given you food for thought! (forgive the pun!). For more gift ideas why not head over to our website to view the full gift range. CLICK HERE