The best corporate gifts for employees and clients should leave a lasting positive impression. The best way is to send something meaningful and/or personalized vs a generic gift. We recommend thinking of this process in the same way you would a family member.
What is corporate gifting? – Why is it so important in the business world today
Your brand is your unique selling point, and it speaks much about the services you offer.  Therefore, if you desire to have an edge above your competitors, it is imperative that you build your brand value.
Improving on your branding is a good marketing strategy that helps to promote your product or services. One of the best tools that have been widely used to increase brand awareness in the market is corporate gifts.
You can improve your brand value and strengthen your relationship with your customers and employees by utilizing some corporate gifts.
The truth is that customers always remember brands that offer them freebies, more than ones that didn't. 
What are the best corporate gifts for Christmas?
It's no surprise that more chocolate is consumed at Christmas than another other time of the year, so factoring this into your choice of gift has got to be a winner!
When it comes to the most popular corporate gift for both clients and employees, Christmas Gift Hampers are the obvious choice. They offer great value for money, can be fully personalised and are the perfect gift for sharing within any office.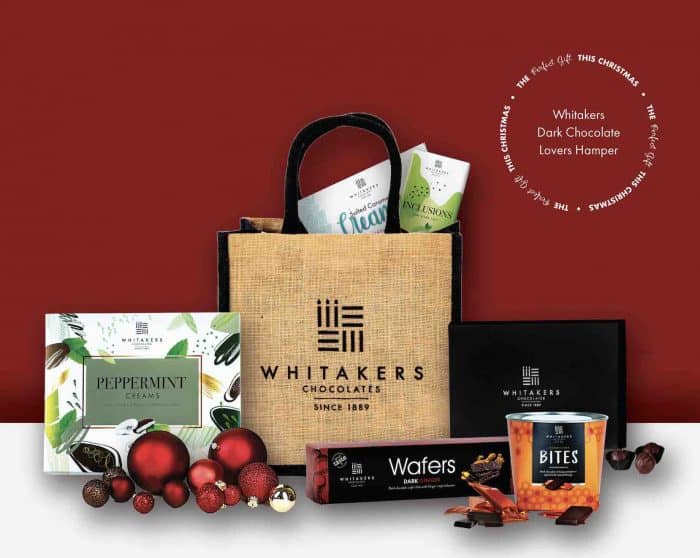 Like this example from Whitakers Chocolates. This luxury gift hamper is full to the brim of luxury chocolates and gifts, all made by a UK chocolate manufacturer.
The chocolates are packed into reusable and natural tote bags, making these corporate gifts an environmentally friendly choice. Whitakers Chocolates are UK leading specialists in branded gifts.
You can choose to have the hamper bag branded with the Whitakers logo or they would be happy to create your own branded bag style. The minimum order is 100 bags and prices start as little as £35 each!
(If you need to place large Xmas orders, please take a look at our wholesale Christmas chocolates bulk buy page)
If you are working to a tight budget and are looking for smaller branded gifts but still want to add a personalised touch.
There are many options available on the market, like personalised chocolate bars, branded gift boxes or small individual square chocolate Neapolitans.
Personalised chocolate bars are a great way to brand your business, say thank you to your employees and customers alike whilst offering great value for money.
We've placed below an example of what a branded personalised chocolate bar could look like.
The beauty of this product is that the wrappers are fully personalised in full colour and are digitally printed. Therefore you can be assured to always be on brand and have the flexibility to have a little fun with the graphics!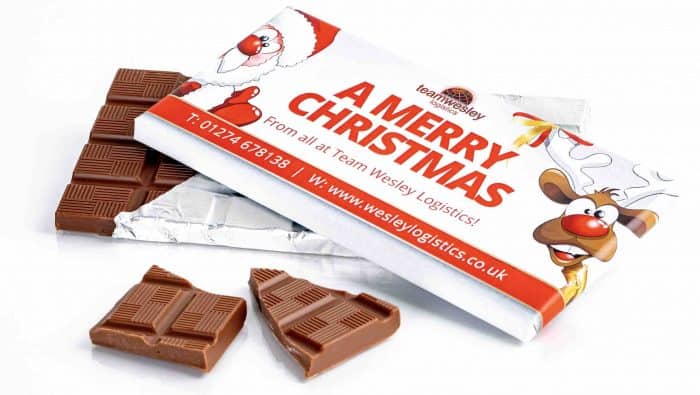 These personalised milk chocolate 90 gram bars are just fab, big enough to be a suitable gift for all at Christmas or any other time of the year. Plus, they make great personalised letterbox gifts!
The wrappers are full colour and digitally printed which means you can have fun with the design, keep on brand and that when printed they will look super slick!
The minimum order runs are usually small, meaning they can fit into the smallest of marketing budgets. Contact Whitakers Chocolates team to find out more.
Want a personalised gift that looks great but won't break the bank?
Branded gift boxes offer the ultimate in luxury but won't cost the earth. Whitakers Chocolates offer a large range of gift boxes all filled with delicious chocolate truffles. They are available in a wide range of sizes, colours and box finishes.
Plus, they offer low print runs and can tailor personalised options to suit any marketing budgets. We've placed an example below of a black textured finish box with metallic gold print, filled with 24 luxury hand finished chocolate truffles…how stunning are these?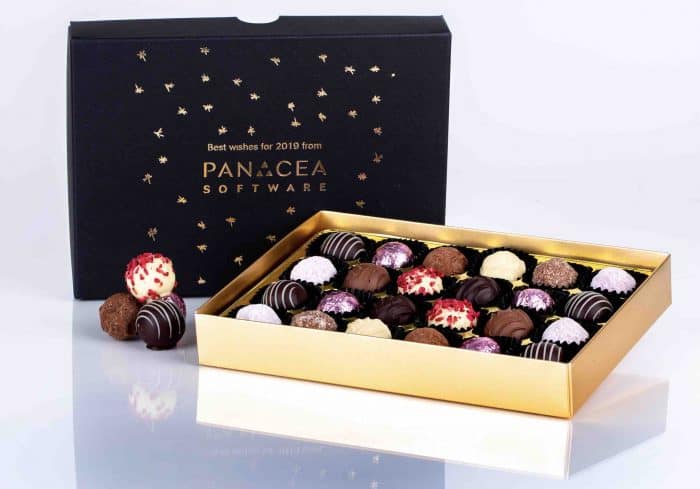 Looking for personalised Advent Calendars?
Personalised advent calendars are a fantastic way to start spreading some Christmas cheer whilst building your brand at the same time. Just think for the whole month of December, in the Christmas run-up, every morning your recipient will enjoy a little chocolate surprise courtesy of your branded gift. If that's not the best way to build brand awareness, we don't know what is! Also, the best news, there are not as expensive as you may think! Interested in finding out more? Contact Whitakers today!
Personalised individually wrapped chocolates
Ever heard the word 'Personalised chocolate Neapolitans'? Wonder what they are and what they are used for?
Personalised Neapolitans are small, individually wrapped chocolates that come in a bulk format and can be fully branded. The wrappers can be printed to include your logo and brand message. They are a great, cost effective way to brand business. They are a great giveaway gift. You can offer them to all guests, leave in reception, give them as a little treat with coffee. Plus they are great to use for conferences and events. After all, who doesn't love chocolate?! They also make a nice touch if added to customer orders or letterbox gifts. The kinds of personalised Neapolitans are Whitakers Chocolates. Check this link out to find out more.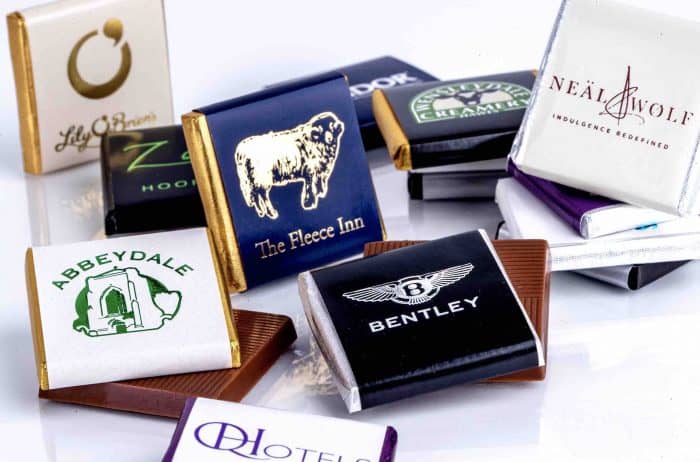 Looking for personalised chocolates for Christmas?
All of the options above are perfect for branded Christmas gifts but you'll need to be quick as Christmas is fast approaching. Deadlines for branded gifts by Whitakers Chocolates is 5pm 2nd December! Order today!